Getting There
This page covers airline discounts, visas and getting through customs, obtaining local currency and SIM cards, and taxis.
Airline Discounts
Air France/KLM. Discounted fares using this link.
United Airlines. Up to 10% off by entering Z Code ZXTB750972 in the Offer Code box.
SkyTeam airlines up to 15% off by using this link to make reservations online. SkyTeam Airlines include Aeroflot Russian Airlines (SU), Aero Mexico (AM), Air Europa (UX), Air France(AF), Alitalia (AZ), China Airlines(CI), China Eastern (MU), China Southern (CZ), Czech Airlines (OK), DELTA (DL), Kenya Airways (KQ), KLM (KL). Korean Air (KE), TAROM (RO), Vietnam Airlines (VN), Saudia Airlines (SV), Middle East Airlines(ME)
Visas to Vietnam
See https://www.informingscience.org/Conferences/InSITE2017/VisaInfo
Things to Do after Leaving Customs:
Get cash, get a SIM, and get a taxi
Get Cash Before You Leave Terminal
Do not leave the terminal without at least 300,000/500,000 Dong -- $15-20 dollars. You will need Vietnamese Dong (VND) for food and taxis and all other transactions at shops that don't accept credit cards. The most affordable way to get VND is from ATMs using your debit card that charges no transaction fees. As you leave customs in the International terminal building, the ATM area is on your right-hand side where you will find around five working ATMs. Typically they have a maximum withdrawal per transaction of 4,000,000 Dong (about $180 USD). The exchange rate varies around 22,250 VND per US dollar. If you prefer, use a currency exchange service or bank inside the terminal (if your flight arrives while they are still open).
SIM card if you are bringing your phone
You may wish to buy a phone SIM card. If you have time, get a SIM card at the airport. Or you can buy a SIM card at your hotel or on the street. http://toomanyadapters.com/buying-sim-card-vietnam/ recommends Vinaphone as the best provider. The cost will be between $5 and $10 USD depending on your capacity needs. But you may prefer just to use WiFi which available in many locations while you are in Ho Chi Minh City.
Getting to your Hotel
Vien Dong Hotel, R3-37 Hung Phuoc 4, Phu My Hung, W. Tan Phong, District 7, Phone: (28) 54 1059 77
Khách sạn Viễn Đông, R3-37 Hưng Phước 4, Phú Mỹ Hưng, phường Tân Phong, quận 7, ĐT: (28) 54 1059 77
MerPerle Crystal Palace Hotel, Lot C17 –1– 2 Nguyen Luong Bang, Phu My Hung, District 7, (28) 54 1618 74
Khách sạn MerPerle Crystal Palace, Lô C17–1–2 Nguyễn Lương Bằng, Phú Mỹ Hưng, Quận 7, (28) 54 1618 74
RMIT University, 702 Nguyen Van Linh, W. Tan Phong, District 7, 28 3776 1300 (Switchboard Monday to Saturday, 8 am to 5 pm)
Đại học RMIT Việt Nam, 702 Nguyễn Văn Linh, Phường Tân Phong, Quận 7, 28 3776 1300 (Switchboard Monday to Saturday, 8 am to 5 pm)
Airport transfer (airport to your hotel)
We recommend Buffalo Tours for airport transfers because we have found them to be responsive and competitively priced. This service provides someone to meet you once you exit customs and drive you and others with you to your hotel. The price below is per car (not per person). You will pay for the airport transfer in advance by credit card using the link provided by email when you make your reservation.
4/7 seat car for US $25/way or reserve a 16-seat car for US $28/way
(these are the 2016 prices which may change in 2017)
To make your reservation, email Nguyen T Xuan with your flight details, your hotel, and the number of passengers. She will email you back a link to the website where you will pay by credit card.
Xuan Nguyen (Ms.)
Travel Consultant Team Leader
maixuan.nguyen@buffalotours.com

Mobile: +84 908 877 662
Skype: xuan_bta
By Taxi
In Ho Chi Minh City, we recommend only these two taxi companies, Vinasun (38 27 27 27) and Mailinh (38 38 38 38 or 38 26 26 26). The cost from the airport to the hotel in District 7 is approximate US $10 – 14 per taxi ride included exit toll fee (250,000 VND). A 20,000 or so VND tip for good service will be appreciated.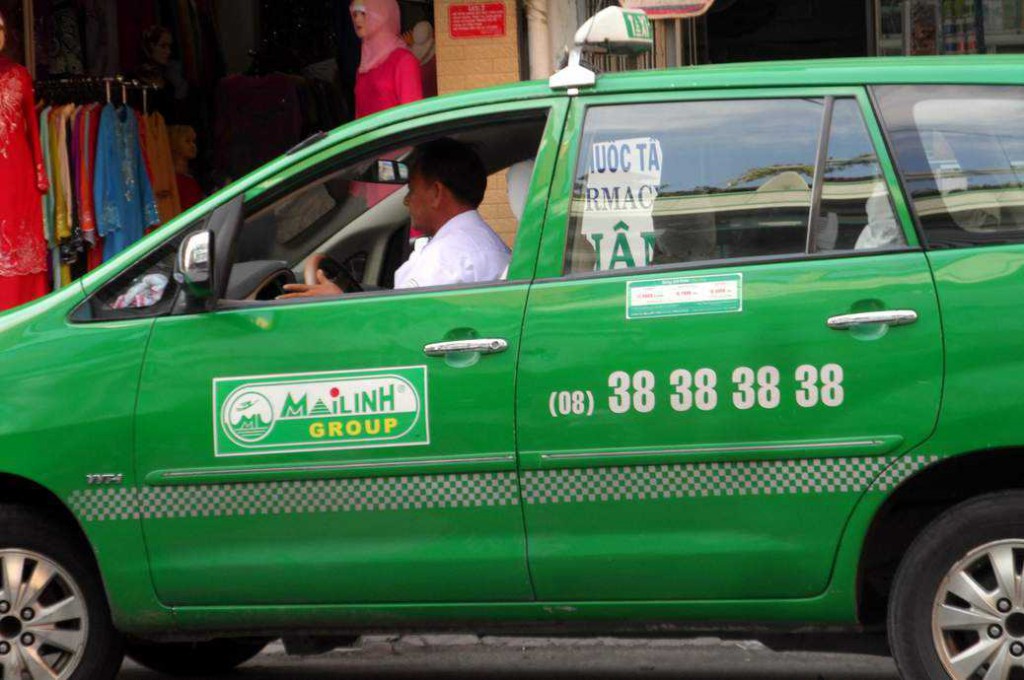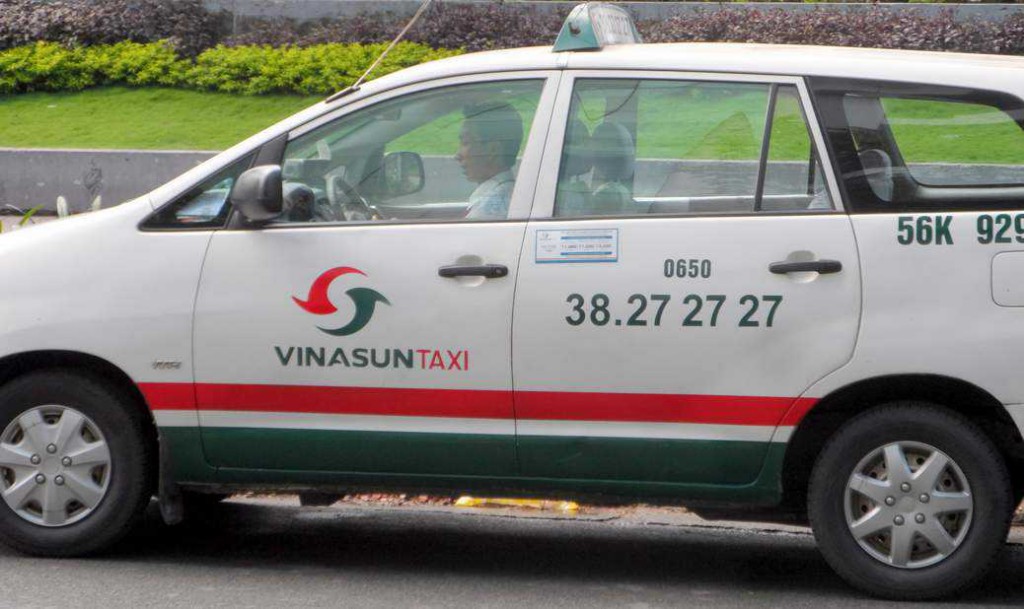 Source: http://hochiminhcityhighlights.com/scam-free-rides-saigon-taxi
You can also pay in advance at the Taxi counter before going out of the airport. You will then receive a receipt that shows the taxi number assigned to you. It won't be cheaper than paying the meter, but paying for the taxi at the taxi rack will reducing uncertainty and help you prevent paying the wrong amount in the dark using unaccustomed currency. Betty and I found it challenging to keep track of all the zeros on the currency. We were tired, and the 10000, 100000, and 1000000 notes looked similar, particularly in the dark in the back of a taxi. It is the difference between handing the driver 45 cents, $4.50, or $45. And know that many drivers will not accept currency that has been torn.
If you don't pay the taxi rack manager at the airport in advance, make sure you get a metered taxi and the driver starts the meter. The rates are regulated, based on distance and time waiting. Read the cost on the meter to make sure you are not getting ripped off. The airport exit toll fee is 10,000 dong and the driver must pay it so they will always add 10/15.000 dong at your arrival. If you don't speak Vietnamese, bring a pen and paper and indicate that you want the driver to write down the amount due.
In District 7
In District 7, you will find many yellow Vinataxis (phone 38 111 111). They are honest and may be your best choice for District 7. In fact, from within RMIT you can hail only a Vinasun taxi. (If you really want a different one, you can order it from your phone.)
Taxi Scams
Check the Phone number on the cab to avoid taxi scams. Verify that the name and phone number on the side of the cab is either white Vinasun (38 27 27 27) , Mai Linh (38 38 38 38 for their green cabs) or for white with green markings (38 26 26 26) or yellow VinaTaxi (38 111 111).
Look for taxis with Vinasun and Mailinh logos, but beware of imitators who will copy the logo colors, or have a name that's very similar to these companies, or have phone numbers that are very similar. Write down the car number. If you suspect driver fraud, Buffalo Tours will be happy to help by calling the Taxi's Help Center.
The following information and quotes come from Trip Advisor:
"Do not get into any other taxi, because even if the driver turns on the meter, it will jump by 50,000 to 200,000 Dong when you're not looking. And you won't have much luck arguing with the driver. If you do get into a non-Mailinh or non-Vinasun taxi, and you notice the meter jump inexplicably, get out of the taxi immediately and take another one, otherwise it might jump again.
A few more tips about avoiding taxi scams:
https://www.tripadvisor.com/Travel-g293925-s304/Ho-Chi-Minh-City:Vietnam:Taxis.And.Rental.Cars.html
http://hochiminhcityhighlights.com/scam-free-rides-saigon-taxi